---
When I first played through Shen Yang - Robson, I thought there was an error in the input of the moves. 1.d4 Nf6 2.c4 g6 3.Nc3 Bg7 4.e4 d6 5.Be2 0-0 6.Nf3 e5 7.0-0 Nc6 8.d5 Ne7 9.b4 a5 10.Ba3 Nh5 is a bit of a sideline. Here White played 11.bxa5, but I think the most testing line is 11.c5 Nf4 12.b5! Later this position was reached: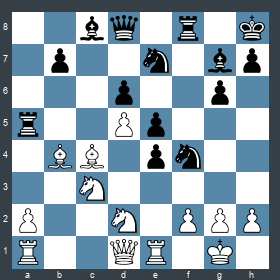 And Black played 17...Nc6! When I saw this blow I thought the earlier moves were wrong, but they are not...
Go to ChessPublishing to see more of the very latest King's Indian theory!