---
The opening was no surprise, with Anand's choice of the Grünfeld reflects his liking for lively piece-play. Topalov sticks with an active line which, apart from his own games, has seen many high-ranking games recently. The Bulgarian's second Cheparinov has also played like this and their combined preparation seemed far more to the point than Anand's in a one-sided opener.
So a fine win for Topalov which incidently makes him provisionally the world number one at 2817 ahead of Magnus Carlsen's 2813.
Here is the game with my annotations:
Veselin Topalov (2805) - Viswanathan Anand (2787)
Sofia WCM (1), 24.04.2010
Grünfeld Defence, Exchange Variation (D87)
1.d4 ♘f6 2.c4 g6 3.♘c3 d5 4.cxd5 ♘xd5 5.e4 ♘xc3 6.bxc3 ♗g7 7.♗c4 c5 8.♘e2 ♘c6 9.♗e3 0-0 10.0-0 ♘a5 11.♗d3 b6 12.♕d2 e5!?
For the last couple of years this move has been popular. The point is that capturing the pawn on c5 has been shown to offer Black good piece play.
13.♗h6 cxd4 14.♗xg7 ♔xg7 15.cxd4 exd4 16.♖ac1
White also obtained strong pressure with 16.f4! f6 17.f5 (a similar idea to the game) 17...♗d7 18.♘f4 ♘c6 19.♗b5 in Najer,E-Safarli,E Moscow Aeroflot 2010. Topalov no doubt knew of this game but had probably settled on this approach in his preparation even before it was played.
16...♕d6
Carlsen opted for 16...♗b7 when faced with this position against Karjakin and went on to hold the draw.
17.f4 f6 18.f5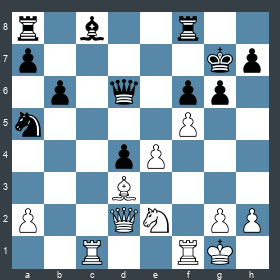 18...♕e5!?
Is it necessary to move the queen again immediately?
When I was recently annotating the Najer-Safarli game I suggested 18...♗d7! as an improvement: Black links his rooks and intends ...♖ac8 to diminish White's chances of generating an attack, then if 19.♘f4 ♕e5 (19...♖ac8?! however looks suspicious after 20.fxg6 hxg6 21.♘xg6!) 20.♕f2 ♖ac8 21.♖xc8 ♖xc8 22.♕g3 g5 23.h4 h6 24.♕g4 ♖c3 and Black has important counterplay.
19.♘f4 g5!?
Trying to block the wing, but this doesn't seem to dent Topalov's pressure.
20.♘h5+ ♔g8 21.h4 h6 22.hxg5 hxg5 23.♖f3 ♔f7?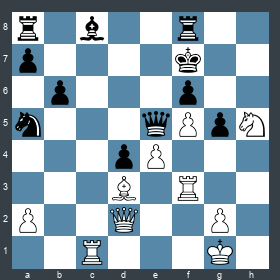 A decisive mistake. The idea is ...♖h8 but he doesn't get a chance!
Anand needs to (finally) develop his bishop when the position would be far from clear (White always has some initiative for the pawn, but is it enough?) e.g. 23...♗d7; or 23...♗b7 as 24.♘xf6+? (after 24.♖g3 then the move 24...♔f7! seems OK. Maybe Anand got his lines mixed up?) 24...♕xf6 25.♖g3 ♖ac8 26.♖e1 ♖c3! seems to be fine for Black.
24.♘xf6!!
Crunch! there doesn't seem to be a satisfactory defence whatever Black plays.
24...♔xf6
After 24...♕xf6 25.♖h3 ♔g8 White crashes through with 26.e5!.
25.♖h3
Neither of White's rooks can be held back.
25...♖g8 26.♖h6+ ♔f7 27.♖h7+ ♔e8 28.♖cc7 ♔d8 29.♗b5! ♕xe4 30.♖xc8+!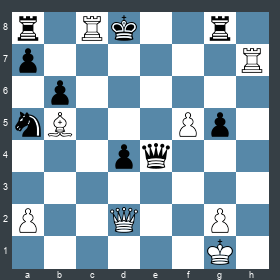 There is no point in playing on as 30.♖xc8+ ♔xc8 (or 30...♖xc8 31.♖d7+ ♔e8 32.♖xd4+) 31.♕c1+ ♘c6 32.♗xc6 ♕e3+ 33.♕xe3 dxe3 34.♗xa8 is clearly hopeless.
1-0
For more information official tournament site