---
Nicholas Pert, who plays less these days, had a good result finishing on 8/11, a score that in some years is sufficient for first place.
However the main man was Michael Adams who only dropped three draws on his way to a convincing victory.
His 9.5/11 isn't a record however, as his good friend Julian Hodgson managed 10/11 in 1992.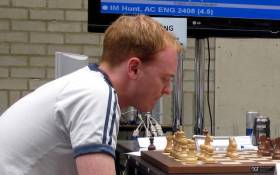 Among the players in equal third was Adam Hunt (from a chess family as he is the brother of the strong English woman Harriet Hunt) who obtained a GM norm.
The final rankings in this 11-round swiss, with first prize being a useful 5,000 pounds sterling, as well as the title:
| | | | | | |
| --- | --- | --- | --- | --- | --- |
| Rank | Title | Name | Country | Rating | Score |
| 1 | GM | Michael Adams | ENG | 2706 | 9.5 |
| 2 | GM | Nicholas Pert | ENG | 2551 | 8 |
| 3 | GM | Stuart Conquest | ENG | 2523 | 7.5 |
| 4 | IM | Andrew Greet | ENG | 2451 | 7.5 |
| 5 | FM | Jonathan Hawkins | ENG | 2423 | 7.5 |
| 6 | IM | Adam Hunt | ENG | 2408 | 7.5 |
| 7 | IM | Richard Pert | ENG | 2460 | 7.5 |
| 8 | FM | Alexei Slavin | RUS | 2417 | 7.5 |
| 9 | GM | Keith Arkell | ENG | 2465 | 7 |
| 10 | GM | Stephen Gordon | ENG | 2534 | 7 |
| 11 | - | Donald Mason | ENG | 2219 | 7 |
| 12 | IM | Thomas Rendle | ENG | 2391 | 7 |
| 13 | GM | Aaron Summerscale | ENG | 2428 | 7 |
| 14 | GM | Peter Wells | ENG | 2488 | 7 |
For more information see the Official site