---
There has been much speculation about the readiness of the organizers to cope with such a large influx of people, but so far everything has gone well. The large Olympic hotel (see the photo) is indeed finished and already serving pretty good food. There are plenty of staff on hand who are helpful at any hour of the day and night. The chambermaids on my floor still seemed to be working after midnight last night, for example.
The reception at the airport and hotel were both great and the people I have spoken to are pleasantly surprised by such smooth organization.
The city comes across as modern, dynamic and culturally rich, (naturally oil-money helps) with many of the buildings constructed with taste.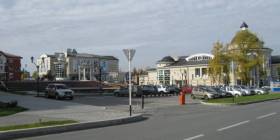 Furthermore the weather is amazing, and it even feels like summer, although this is unlikely to last for long as the temperatures are predicted to soon start to slide.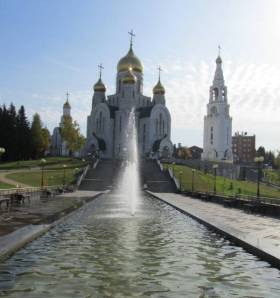 You can watch a little presentation of the event in this video, courtesy of Europe Echecs.
Of course Russia is known for its love of chess so there are posters and art-works around the town featuring the game.
Another particularity of this interesting city, and one that would put many western cities to shame, is that here it is the police who hang around on street corners whereas the disenfranchised youth are nowhere to be seen!
I particularly like the pedestrian crossings where the green man is accompanied by a timer showing how much of one's alloted 25 seconds remains to get from one side of the road to the other.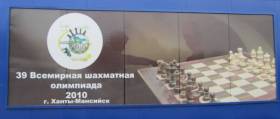 The captain's meeting and opening ceremony are both taking place this evening when we will have a clearer idea of how many countries have made this remarkable journey into mammoth-country!
As for the chess there are (provisionally!) 150 teams in the Open (so-called as individual women have the right to play in the essentially 'men's' section. For example Judit Polgar has often represented the Hungarian 'Men's' team) section and 118 in the Women's section.
The Russian teams are the highest rated outfits in both events with Ukraine and China their closest rivals.
In the open section the highest average rating of 2749 is Russia (1) led by Vladimir Kramnik. Then comes Ukraine (2737) with the ever-popular Vassily Ivanchuk, and the 3rd seeds are China (2703)n featuring World University Champion (2010) Wang Hao.
In the Women's section, Russia (1) is also led by some K's (the Kosintseva sisters and the World Champion Alexandra Kosteniuk) and has an average rating of 2536.
The Chinese team (2500) are led by the prodigy Hou Yifan, and in 3rd place Ukraine (2493) have the newly-crowned World Blitz Champion Kateryna Lahno at their helm.
Starting times for the rounds:
Khanty Mansiysk 3pm
Moscow 1pm
Paris, Madrid 11am
London 10am
New York 6am
Los Angeles 3am
For more information go to the Official site
To follow the results Official site